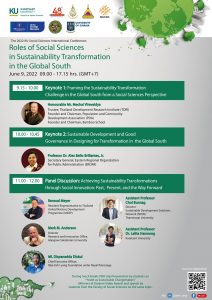 Dear Partners,
In celebration of the 48th anniversary of the Faculty of Social Sciences, Kasetsart University, and the upcoming 80th anniversary of Kasetsart University, you are cordially invited to join the 2022 KU Social Sciences International Conference on the Roles of Social Sciences in Sustainability Transformation in the Global South.
Date: 9 June 2022
Time: 09:00 – 17:15 hours (Bangkok time, GMT+7)
Platform: Virtual platform (Zoom)
Please visit the conference website for program details and registration at https://ssic.soc.ku.ac.th
Registration is free of charge.
The event is organized by the Faculty of Social Sciences, Kasetsart University in collaboration with: the Office of the Royal Society; the Faculty of Liberal Arts, Ubon Ratchathani University; the Eastern Regional Organization for Public Administration (EROPA); the National College of Public Administration and Governance, University of the Philippines; the Faculty of Human Ecology, IPB University; and the Centre for Asian Studies, University of Ghana.
Sincerely,